Enjoy a beautiful and relaxing shower with the right rainfall showerhead in your bathroom.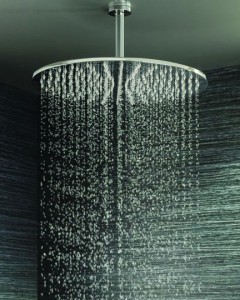 If you've ever enjoyed a rain shower at a spa, you're probably eager to bring that gentle and relaxing shower experience home so you can feel like you're at the spa every day. Thanks to the wide variety of rainfall shower heads on the market today, you can definitely achieve this.
However, it is important to choose your rain shower head carefully if you want to get the best results. Here are the 5 most important points to consider.
Is Your Bathroom Style Sophisticated Enough?
First of all, you need to consider your current bathroom design. Is it sophisticated enough to support a rainfall shower head? Let's be honest, just sticking a rain shower head into a bathroom that hasn't been updated in decades isn't going to look right. You may want to consider redesigning your entire bathroom to help make sure it supports the spa-like vibe you're hoping to achieve with your rain shower head. Mission West Kitchen & Bath offers many resources to help you do this, including beautiful contemporary plumbing fixtures, custom bathroom vanity cabinetry, and quality bathroom countertops.
Wall or Ceiling Mount?
Originally, rainfall showerheads were all ceiling mounted. However, because running plumbing through the bathroom ceiling can be a big project, wall-mounted options are increasingly popular. These showerheads can mount right where your old showerhead did, yet still deliver the overhead rain shower experience because the shower arm arches out over and above your head to point the showerhead straight down. Wall and ceiling mounts obviously look very different and tend to have different price points as well, so you will want to choose carefully.
Choosing the Shape
Rainfall showerheads generally come in either a square or round shape. The choice typically depends on what the rest of your bathroom looks like. Square heads typically work better with contemporary bathrooms that already have a lot of angular elements in them such as a square bathtub.
Choosing the Size
Rain shower heads come in sizes anywhere from 6 inches across to 10 inches or more. Larger sizes obviously deliver a larger area of "rain" for your shower, but if you have bad water pressure, a larger size with more nozzles will make the problem worse. Smaller showerheads with fewer nozzles will have more pressure.
Choosing the Finish
Finally, once you've narrowed down the type, size, and shape of rainfall showerhead you prefer, you may have the option of choosing the finish. Depending on the manufacturer you may have dozens of finishes to choose from including different metal tones, brushed, polished, oiled, or rubbed finishes, etc. Don't worry about matching the rest of your bathroom plumbing fixtures exactly—these days it is common to mix and match as long as the finishes complement one another.