Faucets don't have to be boring. Our selection of designer faucets proves it!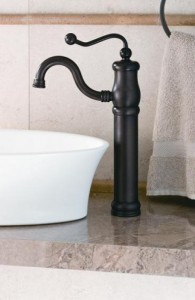 Faucets are obviously an important part of any kitchen or bathroom. They do have to be functional so that you can easily access the water you need for cooking, washing, drinking, etc. But functional does not have to equal boring!
Here is just a sampling of the sorts of eye-catching faucets you might consider for your kitchen or bathroom. Find the right one, pair it with the right sink and you'll see it is possible to elevate something as seemingly mundane as a faucet to the status of a piece of art in the kitchen or bath.
3-D Printed Faucets
One of the most exciting developments in the area of sculpture-like faucets comes from American Standard. This company is offering a line of designer faucets that are 3-D printed to order. This one-off production allows them to create beautifully intricate faucets that could not otherwise be mass-produced.
Waterfall Faucets
Sometimes called open faucets, waterfall faucets may be mounted on the wall or even the ceiling. They allow the water to flow over the lip of the faucet like a waterfall rather than out of a traditional faucet spigot. With this kind of faucet, the movement of the water itself can become part of the sculpture.
Vintage Faucets
Some types of vintage or vintage-inspired faucets can also take on the appearance of a sculpture or a work of art. This is especially true if they have a quirky profile, lots of joints, an appealing weathered finish, and/or an appearance of being crafted by hand.
Ultra Modern Faucets
Faucets with an aggressively modern, minimalist look can also make a big artistic statement in a room. Depending on your tastes, you might get one with such sleek lines it's hard to tell how to work the faucet, or one with some industrial edge to its levers or knobs.
At Mission West Kitchen & Bath, we have tons of designer faucets to choose from that go far beyond the traditional knob and spigot look. And don't worry if your fancy new faucet needs a dramatic new sink to match–we can help you with that too. We even have stunning countertop options if you need to redo the entire space. Please stop by our showroom and we'll help you find just what you're looking for.