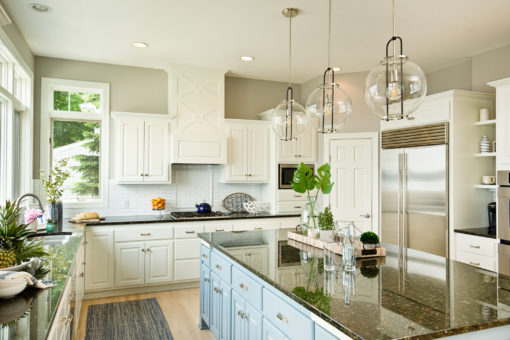 As you imagine the results of your perfect kitchen remodeling project, one of the choices you will need to make will be on the kitchen cabinets. Two of the most popular options are white cabinets and wood cabinets. Which are the best for you? Keep reading to learn the pros and cons of both options and then contact Mission West Kitchen & Bath at (626) 799-3503 with any questions you may have.
The Advantages of Choosing White Cabinets
First and foremost, white cabinets look clean and crisp. This is true whether you choose a pure white, an off white, or another shade of white entirely. You get a smooth, even look that does not have the potential flaws you will see with stained wood.
Second, white cabinets are generally more budget-friendly. Of course, it depends on the specific material you choose, but you can get MDF and paint it white, or have thermofoil, laminate, or melamine treatments adhered to it, all of which are much cheaper than wood. You will get the shiny, beautiful finish you want at a much lower price than you would pay for wood.
The Disadvantages of White Cabinets
While some consider the grain marks of wood to be "flaws," if you want the character of wood, you will not see it when it is painted white. If you want wood cabinets and to then paint them white, this will cost a lot more than it would to just stain the cabinets. Finally, if you need to touch-up white cabinets in the future, it will be very challenging to get the right shade and texture on one small part without standing out.
The Advantages of Wood-Stained Cabinets
Stain is much thinner than paint, which means that it sinks right into the wood and better showcases the unique character of the wood. This allows you to add warmth and beauty to your kitchen while still respecting the natural beauty of the wood. You can choose from a wide range of wood tones, from light honey all the way to dark espresso.
It is also less expensive to stain wood than it is to paint it, and if you end up needing to touch up your cabinets, you can do so much easier with stain than with paint. Why? Because you do not need the identical shade because the grain and variation in tone of the wood make it look like a natural difference.
The Disadvantages of Wood-Stained Cabinets
One of the main downsides is that you cannot use MDF if you want to stain it, because it is such a low-quality product and does not have natural grain. If you want a perfect, sleek kitchen, staining will not be the best option because it shows all blemishes and tones on your cabinets – including dust, flour, and any other debris.