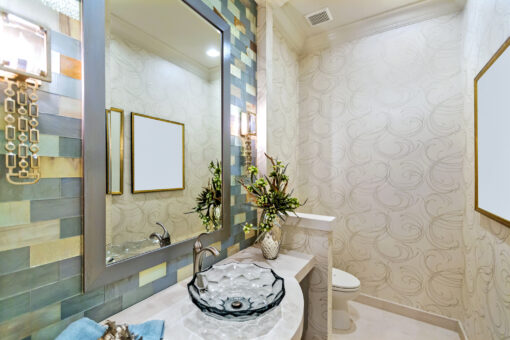 Have you ever entered a luxury hotel or restaurant's powder room and wondered why your home couldn't have a similar space? In actuality, you can. Making ensuring you get the appropriate bathroom remodeling materials is essential. At Mission West Kitchen & Bath, we can offer all the necessary components as well as many of suggestions on how to design the chic powder room of your dreams.
Be as bold and brave as you want to be
Taking their restroom too seriously is one of the worst errors people make. They occasionally do this in order to avoid overpowering a tiny room with strong shapes or colors. Sometimes people believe that risky designs are bold. They are, in fact, a risk, but they may also be a risk that pays off. Use these if you appreciate bright, striking colors and patterns! If you want to add a splash of excitement to your powder room but don't want to go wild on the entire wall, think about putting accents in a vibrant hue.
Consider what your visitors may require
Your family will use your main restrooms, but only visitors may use the guest bathroom. As a result, consider what they require. You should have plush towels and fragrant hand soap. A mirror is required in the powder room so that visitors can touch up their hair or cosmetics. Consider including a basket with lotion, breath mints, floss, and anything else you can think of that your visitors would wish they had on hand if you want to raise the level of luxury to the next level.
Lighting is necessary
It's critical to choose the appropriate lighting for your powder room. Your powder room can be located in a room without any windows if your house is like many others. If so, you should give the room's lighting additional special consideration. Utilize many lighting sources, each of which provides a warm glow. Give them the option to choose how much light to use at once because most people believe that too much light is unattractive. Also keep in mind that the lighting fixture itself must be considered in addition to the light's quality.
We can assist you with all of your materials needs for the restroom
We can assist you with any installation you need for your powder room, whether it's a toilet that is beautiful and sleek or a modern sink that showcases your individual taste. Call (626) 799-3503 to get in touch with Mission West Kitchen & Bath, or come by to say hello. We offer a wide selection of the best lighting solutions, fixtures, and other things. In the field of bathroom design, we have decades of experience. We can give you our professional opinion on what would be best for you if you let us know what your main priorities are for your powder room.